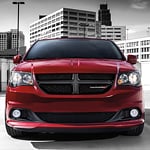 Looking for the ultimate in class and safety? We at Tri-Star Blairsville CDJR in Blairsville, PA know what's important to you. That's why we are offering the Dodge Grand Caravan, a minivan fit for families and those needing a little extra cargo space. Stacked with safety features, this vehicle is the ultimate when it comes to security.
The Dodge Grand Caravan offers many features that make its safety capacity top notch. One of those features is the all-speed traction control which can detect slips in your wheels and correct it by automatically applying the brake in a way that will keep you and your family safe in any kind of weather. Moreover, the Dodge Grand Caravan is equipped with several safety options that come standard. One such feature are the expertly placed airbags that work to lessen the impact of a crash to lessen your likelihood of severe injury.
With all that the Dodge Grand Caravan has to offer in safety, it's no wonder why it's a top pick among families everywhere. Fitted with all-speed traction control and multi-stage airbags, the Dodge Grand Caravan can keep you safe, even when other vehicles can't.